NanoTrader seamlessly integrates charting and trading within one application. The interface was specifically designed for ease-of-use so traders can jump-start using NanoTrader including its powerful features like TradeGuards or Tactics. Wizards can be used to setup charts and TradeGuards within seconds.
Another major design aspect was the usage of screen space - still a rare resource even when using multiple monitors. Therefore NanoTrader allows to hide and quickly redisplay all dialogs for configuring charts and systems, such as the DesignerBar. The chart itself constantly displays all major information like current position size, P&L, risk, account, as well as all active stops. A system can be switched to AutoOrder mode right from the chart.
Charting
A typical chart window looks like this: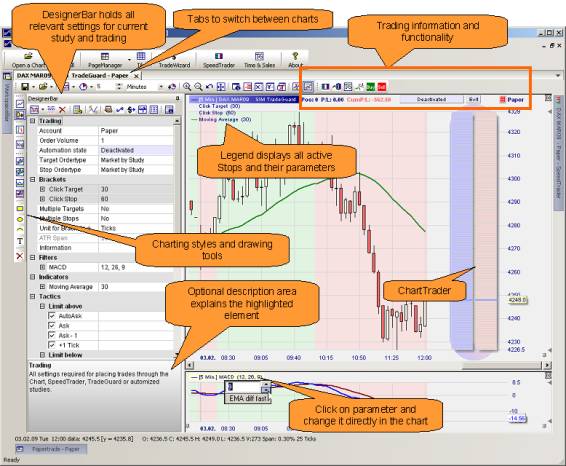 Trading
NanoTrader allows to directly connect with your broker thus enabling an unparalleled functionality to support the trader's trading activities and to implement new trading strategies:
Classical order creation through easy to use dialogs and the SpeedTrader
Visual trading from the chart: place and modify orders directly in the chart; modify orders by dragging price sliders
TradeGuard: As soon as your entry order is filled the TradeGuard manages the exit of the position according to the criteria you defined, e.g., stops, profit targets, patterns, indicators, etc.
Bracket Orders: The TradeGuard can automatically maintain pairs of closing orders for taking profit when a profit target is reached and for reducing losses or securing profits. These orders can be held directly at the exchange for minimizing risks at infrastructure breakdowns.
Fade Out: You can place as many Bracket Orders as you like to achieve a so-called Fade Out out of a position, e.g. three profit targets and two stops. The TradeGuard manages all Bracket Orders fully automatically.
Tactics: This is a powerful new technology introduced by NanoTrader allowing traders to instantly modify orders and to assign a certain predefined tactic with a single click of the mouse to a given working order, e.g., trail, go breakeven, always stay at the best bid/ask etc.
Pattern Trading: NanoTrader continually looks out for patterns in a large number of markets – and orders immediately in case a pattern is detected.
TradingSystems: Let NanoTrader trade you trading system - fully automatic.
Scalping: Trading approaches requiring a large number of trades can be realized efficiently
MultiAccount Trading: a signal of a study can be routed to multiple accounts.
Spread Trading: trade and chart spreads with any number of legs
Train with PaperTrading
NanoTrader has a built-in papertrade environment that simulates a real exchange without putting your money at risk. You can safely make yourself familiar with the all of the NanoTrader functionality by using this simulation environment. Once you are confident you can use your real account in exactly the same way as you used the papertrade account.
Trading with the SpeedTrader
NanoTrader supports the patented Reflector(tm) technology of Patsystems for order entry and manipulation based on the orderbook: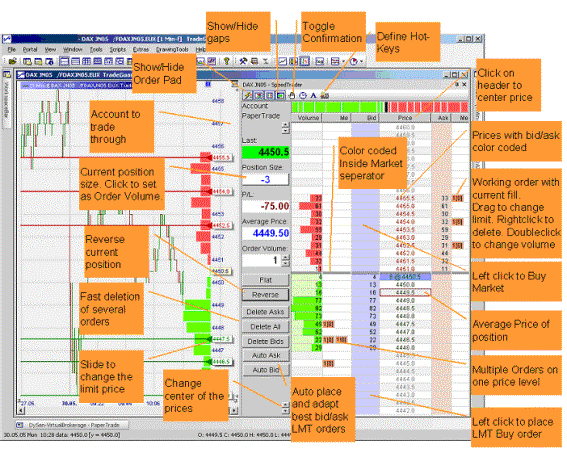 TwinCharts
A TwinChart displays the symbol of the MasterChart in a completely independent aggregation. Most important usage is to add TwinCharts in larger aggregations than the MasterChart, e.g., have the MasterChart in 3 Minutes and two TwinCharts showing 60 Minutes and Daily aggregations.
This allows to immediately view the current low scale price movement in relation to longer term movements. In addition TwinCharts are extremely helpful in detecting longer term trends and support/resistances and to take them into account in short term trading.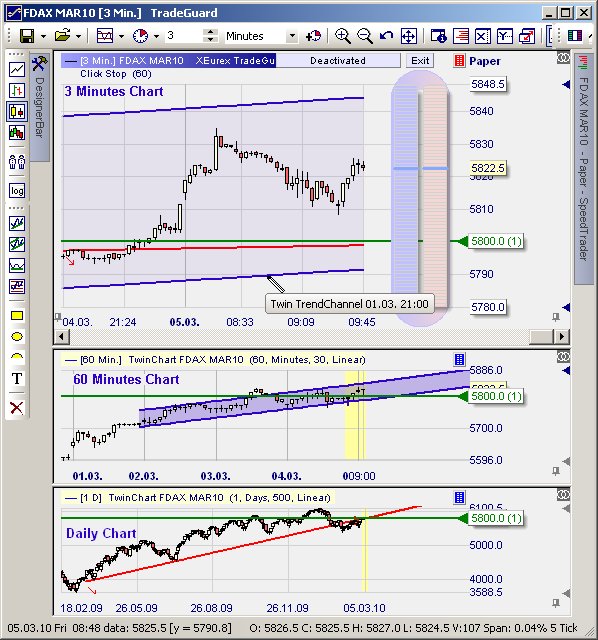 Daytrading-Statistics
With a click of a button NanoTrader generates the Daytrade-Statistics giving an overview of the trading activities of the day complemented by statistics. The trades can be grouped, sorted, and filtered to analyze the data from various angles.