NanoTrader
Charting & Trading
Tactics
TradingSystems
Express
LiveStatistics

Connectivity
Feature list
Indicator API
Historical Data

Press Reviews

Online Coaching

NanoTrader - LiveStatistics
Imagine you are observing a chart. The candles are developing on the screen in front of you and suddenly you feel like detecting some kind of characteristic chart movement. Wouldn't it be great to see if there have been similar situations in the past and then to check how the price developments went on afterwards? Imagine you had a tool that would do that tedious work for you. It would take a portion of the chart and then scan the past for situations that are in some sense similar. That tool would also analyze the price movements that occurred afterwards. And what's best - it would project the outcome of this analysis into your chart, hence giving you a precise picture of what happened retrospectively with your just discovered characteristic chart movement. Instantly you would get answers to questions like:
How often did that scenario occur?
Where did the prices go after, say, 3, 6 and 9 periods? And where are these prices in relation to the current last traded price?
Is there a bias in a certain direction or is it just random?
How much movement did occur in the past to get a feeling for a potential achievable profit and a reasonable stop?
This imaginary tool is now available as NanoTrader's latest module LiveStatistics. Amongst others it will answer questions like those from above visually and explicitly. As an example, the following screenshot displays the so-called expected trading range computed from the chart movement inside the dashed box: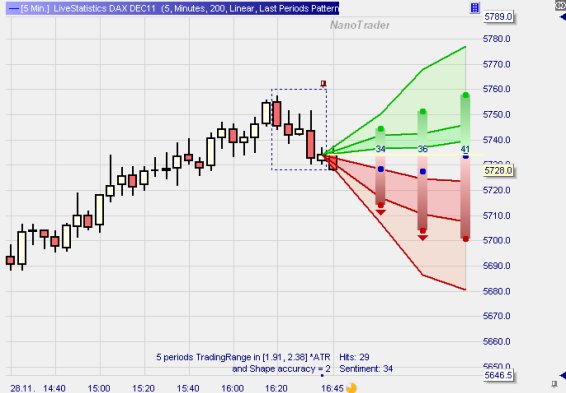 More information provided by WH Selfinvest can be found here.


"I conducted in-depth tests with various trading platforms and must say: NanoTrader is a true winner. It is fast, reliable, full of inventions - and the Indicator API is just a piece of art. NanoTrader is a true pleasure and inspiration to work with."
Fredrik B.
professional Forex trader, Sweden